Auto Repair in Idaho Falls
Reliable Mechanic Car Repair and Care In Idaho Falls
If you are not car tech savvy, or you just don't have the time or space to repair your own car, it pays to have a trusted Idaho Falls car repair center in your life. C&S Auto Repair is your go to shop for just about any kind of auto repair or maintenance issues big or small. We work on both cars and trucks. We typically handle those jobs that most other auto repair shops in Idaho Falls simply don't want to do.
Common Auto Service and Maintenance Concerns
C&S Auto Repair wants you to feel confident in your car care and you can be knowing that all of our auto techs are ASE (Automotive Service Excellence) Certified. Our reputation for quality and professionalism is important to us and so is your trust. We make this happen starting by hiring great auto repair techs. That's just the beginning. Some of the repairs we do for our customers are pretty basic, such as an oil, lube, and filter change. This can be done with other repairs or simply as a part of your regular basic auto maintenance plan. We also repair and replace brakes and parts. No need to go to a big chain for these when you can come to a locally owned shop you know and trust for these kinds of mechanic services. Is your pesky engine light coming on? We service and replace ECMs (Engine Control Modules) and all other electrical components of automobiles. These modules regulate numerous functions of your automobile and we can competently diagnose and fix these issues.
Other parts of your car we service are the powertrains and drivetrains. The powertrain of a car is a collective term for the parts of a car that create the power that moves your car. These include the engine and the drivetrain. The drivetrain delivers that power to the wheels and can include these parts:
These parts are determined by the transmission style of your car, whether it is automatic or manual. Many things can go wrong with the drive-train and we are here to get your car moving again. We replace and or repair these parts along with any work that needs to be done on the engine. Truly, any car repair you need in Idaho Falls can be accomplished by our team. Idaho Falls is known for it's crazy winter weather and many residents have front wheel drive cars and all wheel drive cars for that reason. Front wheel drive vehicles and 4×4's also have specialized systems that we are qualified to repair. These vehicles utilize CV axles. CV (constant velocity) axles use joints that allow the driveshaft to power at a changing angle reliably. And yes, our Idaho Falls shop can accomplish these car repairs as well. Power steering is a feature that many of us take for granted until we suddenly don't have it! These systems can be hydraulic or electrical in nature. Our professional team can tackle these systems so you don't have to wear out your arms turning a corner if your power steering system gives out. Again, with our weather conditions, this is definitely important to keep in good working order. Another commonly occurring dysfunction is the clutch. If you have had a clutch break down, you know what a headache it can be to fix on your own. Don't even sweat it, bring it to C&S Auto Repair, your local Idaho Falls auto repair shop and let us take care of the clutch work.
Below Is a List of Common Auto Repair Services We Do On a Daily Basis: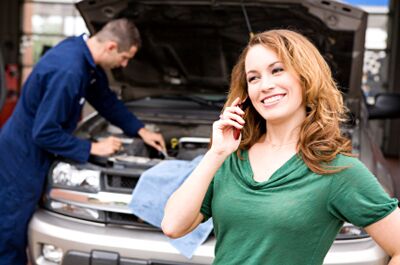 We want to earn the status of being the shop you call whenever you have minor repairs to be done, major overhauls of engines and transmissions, electrical issues, powertrain and drivetrain work, or regular maintenance work like brake service and oil changes. We perform all Idaho Falls car repairs reliably and professionally.
We Service All Makes and Specializing in 2002 and Newer Domestic and Asian Vehicles.
*We do not service European model vehicles.